DETAIL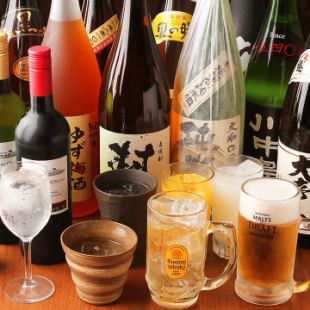 "All-you-can-drink all-you-can-eat for 2 hours" 2,100 yen ⇒ 1,300 yen! Popular with drinking party! (Fri, before public holidays ⇒ 1500 yen)
By using a coupon
1300 yen
tax included
All-you-can-drink all-you-can-eat offering more than 150 drinks! Cheers for a cold draft beer, wine, cocktail, sour toast ♪ Enjoy your favorite sake! Enjoy a variety of drinking menu items We are!
Menu
Please confirm the following all-you-can-drink menu.
★ All you can drink more than 150 drinks ♪ Please choose your favorite things ★
※ advance please reservation.
※ All-you-can-drink: 2-hour system (LO 90-minute system)
※ Friday and Sunday before celebration + 200 yen
※ We can extend for 30 minutes on weekdays + 500 yen ♪
※ If you do not visit even after 30 minutes of scheduled visit time other customers may be prioritized.
Bōnenkai season 2 hours system + 500 yen
Coupon that can be used
【Anniversary / Birthday】
Surprise in course dessert ☆
Message with dessert ☆

Presentation conditions

At the time of booking and when visiting

Conditions of use

· You can use it with other coupons / You can use it with the reservation of the course only.· 4 people or more

Expiration date

Until the end of January 2018