DETAIL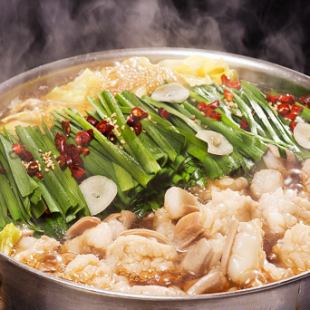 【Limited time offer】 8 items including Hakotan pot with 3 hours of all you can drink + Hakata no Nabe course
By using a coupon
3500 yen
Friday, Saturday, 2 hours before the holidays year-end party season 2 hours system + 500 yen.
It is a healthy, stamina full-bodied pot with a cow with plenty of fresh vegetables deliciously appreciated with secret special sauce and eating it with your favorite soup.Use the domestic cattle and small intestine only for the meat of particular attention, please enjoy the best taste to be played with organic vegetables! Enjoy the secret taste that inherited the long-established flavor of Hakata lasted long time in Hakata.
Menu
【Prefix】 Autumn vegetable cooked
【Buying】 Excellent freshness Three fish sashimi of seasonal fish
【Salad】 Broiled fruit directly bacon and caesar salad with hot spring egg
【Lifts】 Higo red chicken chicken with a barbarian
【Warmth】 Fuwa Fuwa wrapped eggs
【Pot】 You can choose soup! Domestic beef tenderpot
※ Please choose from salt, soy sauce, miso
【Food】 Lunch set or Udon set
[Sweetness] Today's dessert
※ offer of birthday plate is also available! Please contact us in advance!
※ You can change premium all you can drink at + 1500 yen! (All you can drink sake · Shochu)
※ The contents of the course meal may change slightly depending on the season, purchase situation.Please note.
Coupon that can be used
【Friday, Sunday and public holidays can also be used】 Accounting free of charge for one secretary with over 10 courses for all courses ◎

Presentation conditions

At the time of booking and when visiting

Conditions of use

Can not be used with other tickets / services (Only dessert plates can be used in combination.) - 1 staff member for 10 or more,

Expiration date

Until the end of January 2018

【Anniversary / Birthday】
Surprise in course dessert ☆
Message with dessert ☆

Presentation conditions

At the time of booking and when visiting

Conditions of use

· You can use it with other coupons / You can use it with the reservation of the course only.· 4 people or more

Expiration date

Until the end of January 2018